The Scot is set to complete his 25th year in the Old Trafford dugout but the Mexican is still in awe over his enthusiasm for the job and his personality off the pitch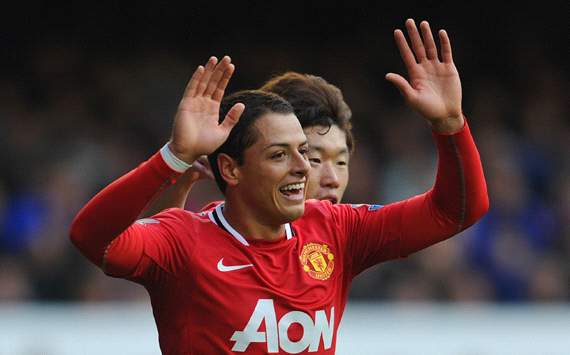 Javier Hernandez has heaped praise on Manchester United manager Sir Alex Ferguson ahead of his 25th anniversary at Old Trafford on Sunday.

The Mexican has been one of Sir Alex's best signings, forming a deadly partnership up front with Wayne Rooney since signing from Chivas de Guadalajara in 2010.

And he believes his manager is incomparable to all others due to his continuing enthusiasm and will to win, which is still just as strong today
Javier Hernandez Chicharito And Sir Alex Ferguson
"He's completely different," Hernandez told Inside United. "You can't compare him to anybody else. What's impressed me most about him, and this is something I noticed from the first day I met him, is that he's a very simple person. You can talk about all the things he's won and all the years he's been in charge but you wouldn't know it if you watched him on the bench. Every game looks like it's his first game for him. He's so excited, so enthusiastic - he wants to win so much. That is key: he will never get bored of winning and he enjoys what he does."


Aside from Ferguson's drive to win, Hernandez says the boss treats his players well.

"He's also a really nice man," the forward said. "Every day he'll ask me how I'm feeling, whether I'm okay, whether I need anything. He's just an unbelievable person and he doesn't treat you differently whether you're on the pitch or off the pitch. He recognizes that first you are a human being and then you are a football player. He knows that if you're doing okay in your personal life then you'll be okay in your profession."

When asked if anybody in Mexico could come close to replicating Sir Alex's stay at Old Trafford, Hernandez sounded certain it wouldn't happen any time soon.

"No, no. Sometimes a manager is only in charge for two games before they get fired! It's a very different culture. It would be a miracle in Mexico if somebody stayed in the job for 25 years!"

Related Post :